STEP 1: THE PICTURE
IF YOU HAVE AN OFF-SITE PICTURE(meaning you have a URL of that picture) THEN IT'S EASY, BUT IF NOT HERE'S HOW TO GET ONE.
SEARCH
FOR THE PICTURE YOU WANT TO POST FROM YOUR PC. NOW THAT YOU KNOW WHERE
IT IS, YOU CAN UPLOAD YOUR PICTURE WITH SERVIMG, PHOTOBUCKET OR
IMAGESHACK. YOU CAN USE THE UPLOADER HERE IN THE FORUM(IT WILL DIRECT
YOU TO SERVIMG) BY CLICKING THE HOST AN IMAGE BUTTON LIKE SO :
A
POP UP WILL SHOW JUST LIKE THAT. BROWSE FOR YOUR PIC, THEN RESIZE IMAGE
AS YOU DESIRE AND CLICK ON Host it BUTTON. AFTER THE SMALL WINDOW
REFRESHES IT WOULD GIVE YOU THE URL.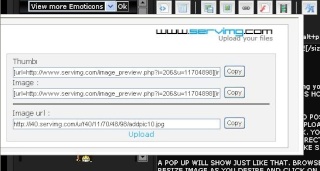 NOW YOU CAN COPY THE IMAGE URL. TO CLOSE THE POP UP, SIMPLY CLICK THE HOST AN IMAGE BUTTON AGAIN.
STEP 2: PUTTING THE URL TO USE.
NOW,HERE'S HOW TO FINISH IT UP.
CLICK ON THE BUTTON NEXT TO THE HOST AN IMAGE BUTTON WHICH IS THE IMAGE BUTTON.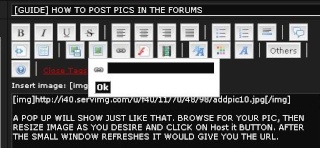 JUST
PASTE THE URL YOU COPIED ON THE GIVEN SPACE AND CLICK OK. AND BY DOING
THAT YOU'LL HAVE A CODE RATHER THAN AN IMAGE. JUST PREVIEW YOUR MESSAGE
AND SEE IF YOU ARE SATISFIED.
I HOPE THIS GUIDE HELPS.